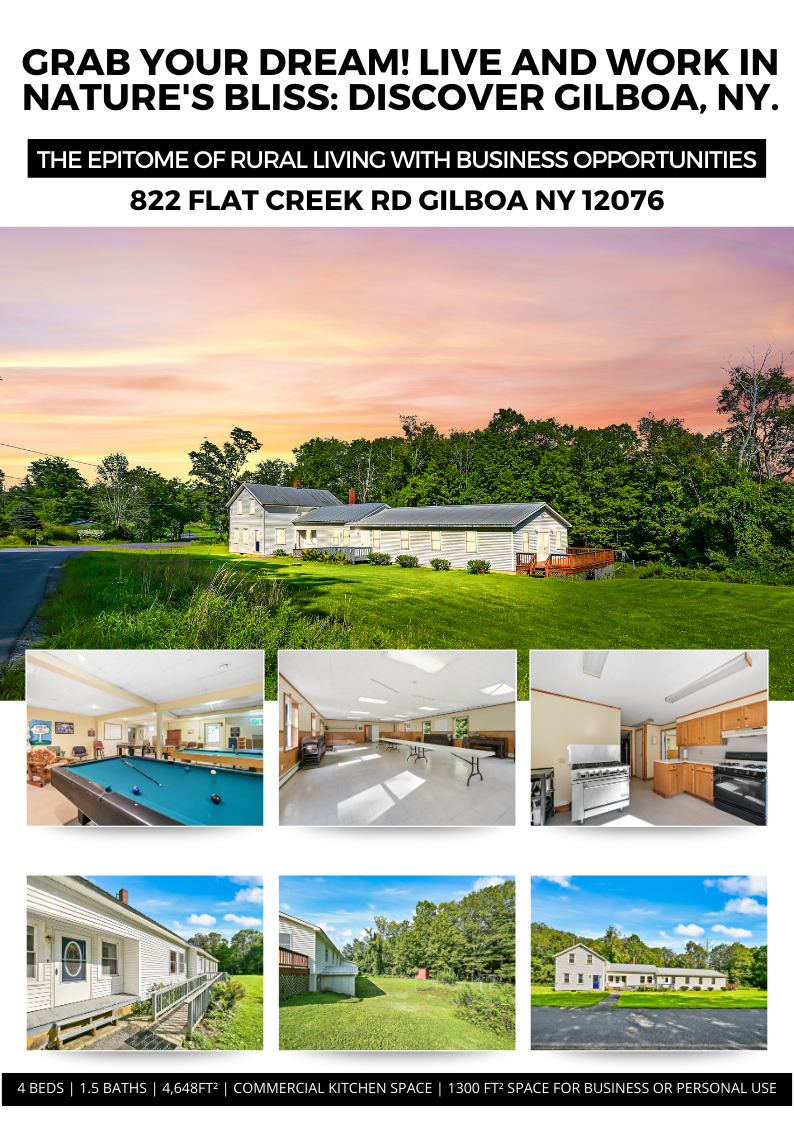 Click the image above to visit the property website.
Offered at: $210,000
---
Live and Work in Nature's Bliss: Discover 822 Flat Creek Road in Gilboa, NY
The Epitome of Rural Living with Business Opportunities
Welcome to 822 Flat Creek Road in Gilboa, New York—a tranquil sanctuary that's not just a home, but a lifestyle. Nestled on a quiet country road with the peaceful ambiance of a babbling stream nearby, this spacious four-bedroom property promises both comfort and opportunity.
Interior Highlights
Ample Space: With 4,648 square feet of living space, including one-and-a-half bathrooms, this home offers an abundance of room for family, leisure, and work.
Unique Commercial Kitchen: A standout feature, the commercial-grade kitchen allows you to explore culinary ventures or even operate a home-based food business.
Versatile Bonus Space: A generous 1,300-square-foot area can be tailored to your specific needs, be it for business or personal use.
Energy-Efficient: Newer windows throughout the property help ensure energy efficiency.
Stay Connected: Enjoy seamless internet connectivity with available Midtel fiber.
Exterior Highlights
Natural Serenity: Located amidst nature, the property embodies rural tranquility.
Outdoor Adventures: Just minutes away from the Schoharie Reservoir and DEP recreational lands, indulge in fishing, hiking, and more.
Easy Commute: At just 2.5 hours from the George Washington Bridge, you can easily balance rural and urban life.
Why Gilboa and Schoharie County?
If you've ever longed for the pastoral beauty of upstate New York, Gilboa in Schoharie County is the epitome of rural charm. The area offers:
Schoharie Reservoir: A paradise for fishing enthusiasts.
Howe Caverns: A spectacular underground limestone cavern open to the public.
Old Stone Fort Museum: For those interested in the Revolutionary War history.
Farm-to-Table Experiences: Schoharie County is known for its agriculture, offering fresh, local produce.
Why Move to Schoharie County?
Affordability: Lower cost of living compared to major cities.
Community: A tight-knit, welcoming community.
Educational Facilities: Good schools make it ideal for families.
Natural Beauty: From mountains to creeks, the landscape is breathtaking.
Business Opportunities: With spaces like the commercial kitchen at 822 Flat Creek Road, Schoharie County offers a supportive environment for startups and small businesses.
Don't miss this unique chance to embrace a home that offers both residential comfort and commercial opportunities.
Contact us today to schedule your viewing and explore endless possibilities.
---
Key Hashtags to Follow
#822FlatCreekRoad #GilboaNY #SchoharieCounty #UpstateNYLiving #CommercialKitchenHome #VersatileSpace #RuralCharm #EntrepreneurialDreams #NatureLoversParadise #AffordableLiving #HighSpeedInternet #HomeBusinessOpportunity #KevinLuceroRealEstate
---
Discover 822 Flat Creek Road—a place where rural charm meets entrepreneurial spirit. Your dream home and business await!