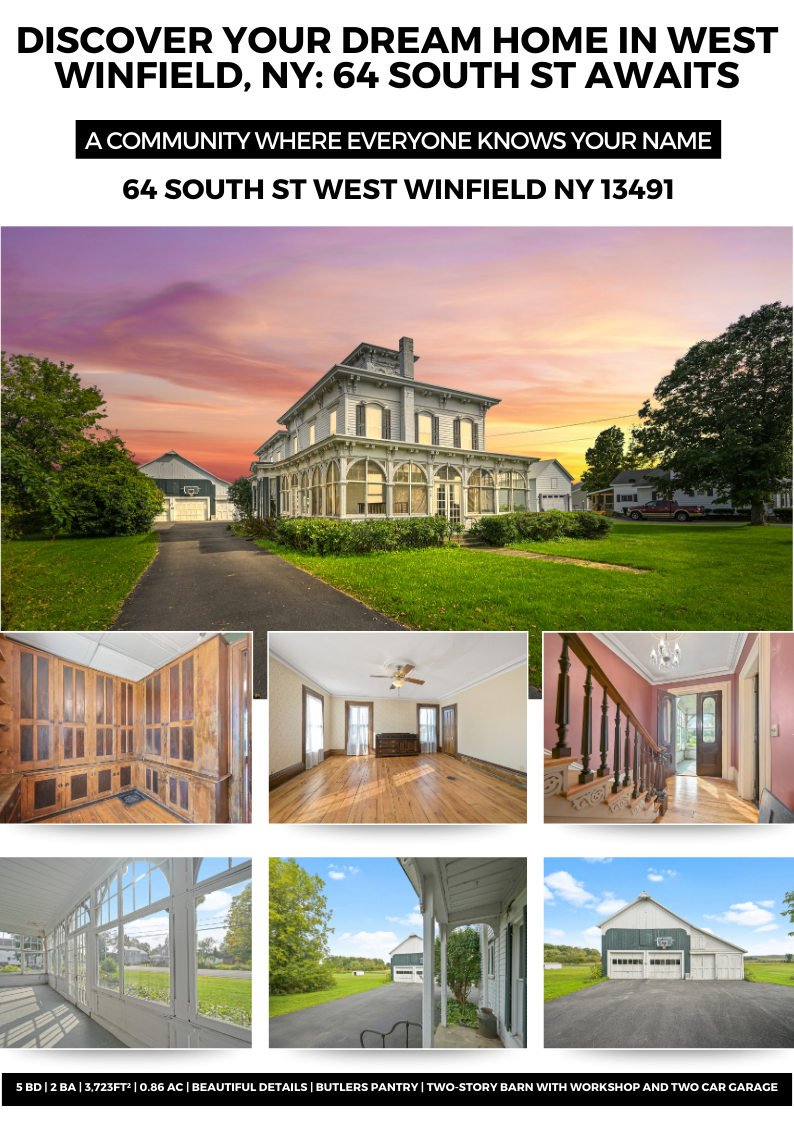 Click the image above to visit the property website.
Offered at: $199,000
---
Discover Your Dream Home in West Winfield, NY: 64 South Street. Awaits
A Community Where Everyone Knows Your Name
Are you in search of a community that offers a perfect blend of scenic beauty, cultural richness, and neighborly vibes? Your search ends at 64 South St in West Winfield, NY. This charming town in Herkimer County promises you not just a house, but a home in the heart of a vibrant community.
The Best of Central New York
West Winfield sits at a strategic location just 30 minutes from Cooperstown and Utica, giving you easy access to two of Central New York's most bustling centers. And if you're an outdoor enthusiast, you'll love the quick 20-minute drive to Canadarago Lake, a tranquil haven perfect for fishing, boating, and water sports.
Step Inside to Vintage Grandeur
Spacious and Gracious
64 South St opens its doors to an expansive living room that exudes innate character and charm. The formal dining room is equally inviting, setting the stage for memorable meals and meaningful conversations.
A Nod to a Bygone Era
The home's classic butler's pantry adds an extra layer of historical allure, seamlessly linking past and present.
A Sanctuary for All Seasons
But what really sets this home apart is its wrap-around enclosed porch—a cozy sanctuary that promises respite in every season.
A Unique Viewpoint
Venture to the third floor to discover a captivating steeple cupola, offering 360-degree views of the rolling hills and expansive skies that characterize West Winfield.
Why West Winfield and Herkimer County?
A Tight-Knit Community
West Winfield is known for its tight-knit neighborhoods. It's a place where community events are the highlight of the week and where your neighbors become your friends.
Scenic Beauty
Set amidst rolling hills, the town offers a tranquil atmosphere that's increasingly hard to come by.
A Blend of Old and New
Herkimer County is not just naturally beautiful, but culturally rich. Home to attractions like the Herkimer Diamond Mines and the historic Fort Herkimer Church, there's something for history buffs and adventure seekers alike.
Local Attractions Galore
Cooperstown's Finest
From the legendary Baseball Hall of Fame to the world-renowned Glimmerglass Opera, Cooperstown offers an eclectic range of attractions that are just a short drive away.
An Oenophile's and Hophead's Heaven
Let's not forget the myriad of local breweries and wineries that promise a delightful day out.
Don't Miss Your Chance
This 5-bedroom, 2-bathroom home is ready for a new beginning. While it needs some love, its bones are strong, its character intact. With the additional benefit of ample storage space in a two-story, two-car garage, this is more than a house—it's your future home.
So why wait? Schedule your tour today, and take the first step toward making your dream home a reality in West Winfield, NY.
---
Key Hashtags to Follow
#WestWinfieldNY #HerkimerCountyRealEstate #UpstateNYHomes #CentralNYLiving #DreamHome #HistoricHomes #ScenicBeauty #LocalCulture #OutdoorParadise #CommunityLiving #JustListed #YourNextHome
---
Embrace the limitless possibilities and inherent charm of 64 South St. in West Winfield, NY. Your dream home awaits!