Converted Barn Retreat: Rustic Elegance Meets Modern Living
1799 County Highway 34, Westford, NY:
Where History Meets Contemporary
2 BEDS | 2 BATHS | 1,665 FT² | CUSTOM WOODWORKING THROUGHOUT | DECK OFF PRIMARY SUITE | POND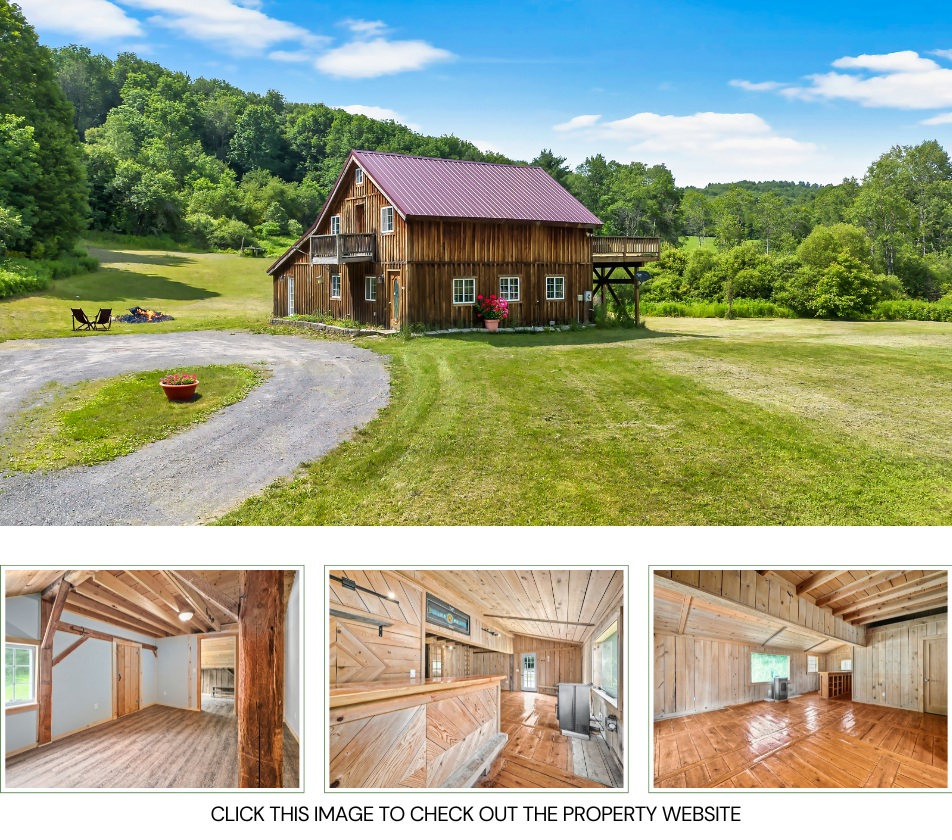 Converted Barn Retreat: Rustic Elegance Meets Modern Living
1799 County Highway 34, Westford, NY: Where History Meets Contemporary
Nestled amidst the serene backdrop of Westford, New York lies a hidden gem — a practical, affordable, and utterly charming rural rustic retreat. Welcome to 1799 County Highway 34.
A Rich Historical Canvas
Originating from the late 1800s to the early 1900s, this property has seen over a century of history, and its stories are etched in every hand-hewn beam and intricately crafted woodwork. The barn conversion stands as a testament to both the passage of time and the timeless appeal of rustic elegance. With two spacious bedrooms and two bathrooms, the barn has been thoughtfully designed to be both cozy and functional.
The fine craftsman woodwork that adorns the home pays homage to the traditional design of its time while seamlessly integrating modern conveniences. The delicate balance between the vintage and the new grants the property an undeniable character.
An Expansive Oasis of Nature
As you step outside, you're greeted by a sprawling 3.53-acre expanse that feels like your private corner of paradise. Whether it's the shimmering private pond that beckons for a lazy afternoon by its side or the wooded hill that promises adventure and exploration, there's a slice of nature for every inclination.
Imagine evenings spent under a canopy of stars, the gentle croak of frogs from the pond serenading you. Or brisk mornings where the woodland air fills your lungs as you hike up the hill, your very own nature trail.
Location, Location, Location
While the barn offers a peaceful rural escape, it doesn't compromise on connectivity. A mere 10-mile drive will find you on Main St. Cooperstown, while a 25-minute journey lands you in Cobleskill. For those looking for a dash of metropolitan allure, Albany, with all its urban offerings, is just an hour away. This strategic location ensures that you're never too far away from modern amenities, making it the perfect blend of country charm and city convenience.
A Versatile Investment
The allure of 1799 County Highway 34 doesn't just end at its aesthetic and location. This property also presents a golden opportunity for those seeking to step into homeownership without breaking the bank. Additionally, its potential as a lucrative investment or a secondary residence cannot be overstated.
In Conclusion
1799 County Highway 34, Westford, NY, is more than just a property; it's a slice of history, a love letter to rustic charm, and a ticket to a balanced life. Whether you're a first-time homeowner, an investor, or someone looking for that perfect weekend getaway, this converted barn promises to be a decision you'll cherish for years to come. Welcome home.