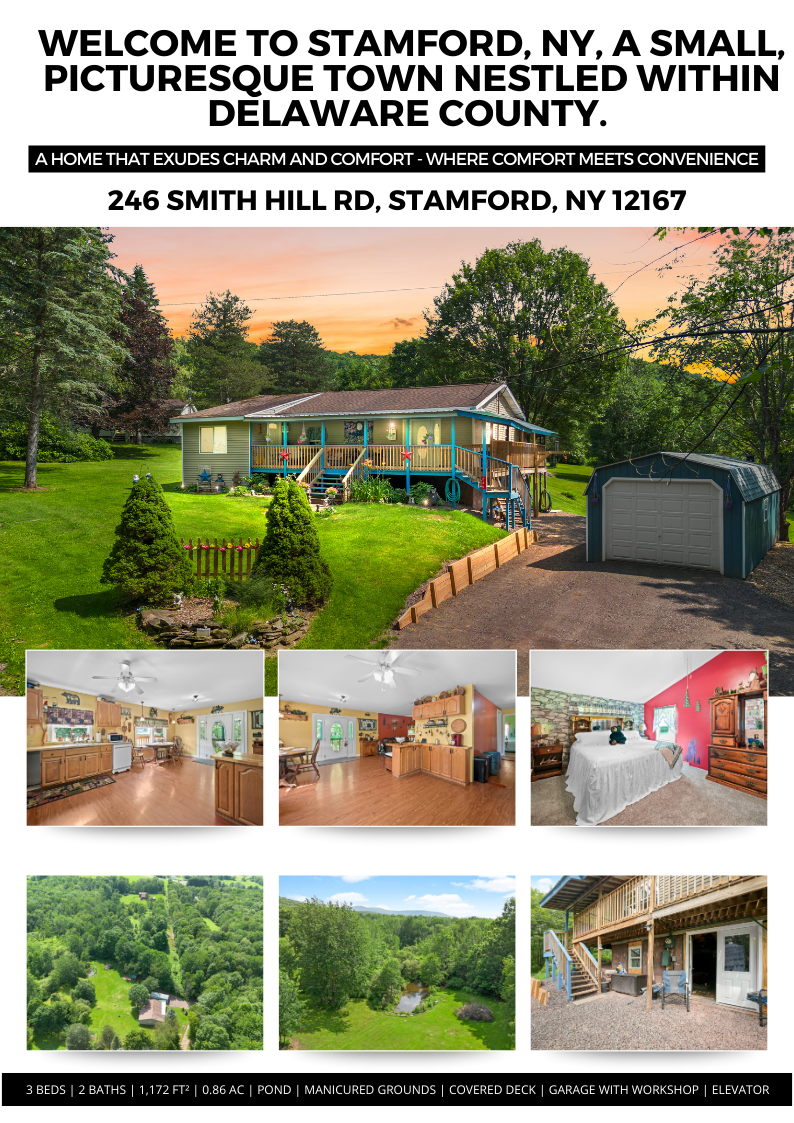 Click the image above to visit the property website.
Offered at: $244,900
---
Discover Your Dream Home at 246 Smith Hill Rd, Stamford, NY — Where Comfort Meets Convenience
Welcome to Stamford, NY, a small, picturesque town nestled within Delaware County. Known for its historic buildings, beautiful landscapes, and vibrant local culture, Stamford is a destination that captures the hearts of residents and visitors alike. Today, we're showcasing a property that perfectly encapsulates the essence of what makes Stamford such a wonderful place to live — 246 Smith Hill Rd.
A Home That Exudes Charm and Comfort
Located just minutes away from downtown Stamford, this charming abode offers the perfect balance between tranquility and convenience. With 3 bedrooms and 2 baths, the home promises comfortable living in an idyllic setting. Stepping inside, you're greeted by new carpeting that adds a touch of luxury and coziness to the home.
The Heart of the Home: The Kitchen
One of the highlights of this residence is the expansive kitchen, complete with beautiful cabinets and ample prep space, designed to satisfy any home chef. What makes it more delightful is its open concept that seamlessly connects the kitchen to the dining and living areas, crafting a welcoming environment for family and guests.
Elevate Your Living Experience
Talk about a standout feature: an elevator! This not-so-common amenity provides convenient access to all levels of the home. It's an extra touch that showcases the thoughtfulness put into the design and functionality of this charming dwelling.
Space for Creativity and Leisure
Follow the wrap-around deck down to additional space in a walk-out basement that was recently insulated with spray foam for added comfort. This versatile space is ready to become whatever you envision — be it a game room, a home theater, or an additional living area.
Embrace the Great Outdoors
The exterior of this home is just as inviting as the interior. A well-manicured yard and a serene pond surrounded by perennial flowers create a peaceful oasis right in your backyard. Enjoy quiet mornings by the pond or vibrant evenings hosting a barbecue for friends and family.
A Workshop for Your Passions
The single-car garage isn't just for parking; it also includes a workshop area. Whether you're an artist, a craftsman, or simply in need of extra storage, this space has got you covered.
The Allure of Stamford and Delaware County
Positioned in the beautiful Delaware County, Stamford is a community that offers more than just scenic views. For outdoor enthusiasts, the property's prime location near Belleayre Mountain Ski Center—a short 30-minute drive away—is a dream come true. And if golf is more your speed, the Stamford Golf Club is a mere 5 miles away, providing another fantastic recreational outlet.
Don't Miss Out!
Don't miss the opportunity to own this delightful home in a community that offers the perfect blend of small-town charm and outdoor adventure. With its rich history, close-knit community, and abundance of natural beauty, Stamford, NY is the place to be.
For those looking to make Stamford, NY their new home, 246 Smith Hill Rd offers a dream living situation, combining comfort, luxury, and natural beauty all in one package. Come and see for yourself why this property is a perfect representation of what Delaware County living has to offer!
Key Hashtags to Follow
#StamfordNY #DelawareCounty #HomeSweetHome #DreamHome #RealEstateGoals #UpstateNYLiving #MoveInReady #ElevatorInHome #OpenConcept #LuxuryAmenities #OutdoorOasis #GolfLife #SkiLife #PeacefulLiving #ManicuredYard #WorkshopSpace #NewCarpeting #DelawareCountyRealEstate #HomesInStamford #CharmingHomes #TranquilSettings