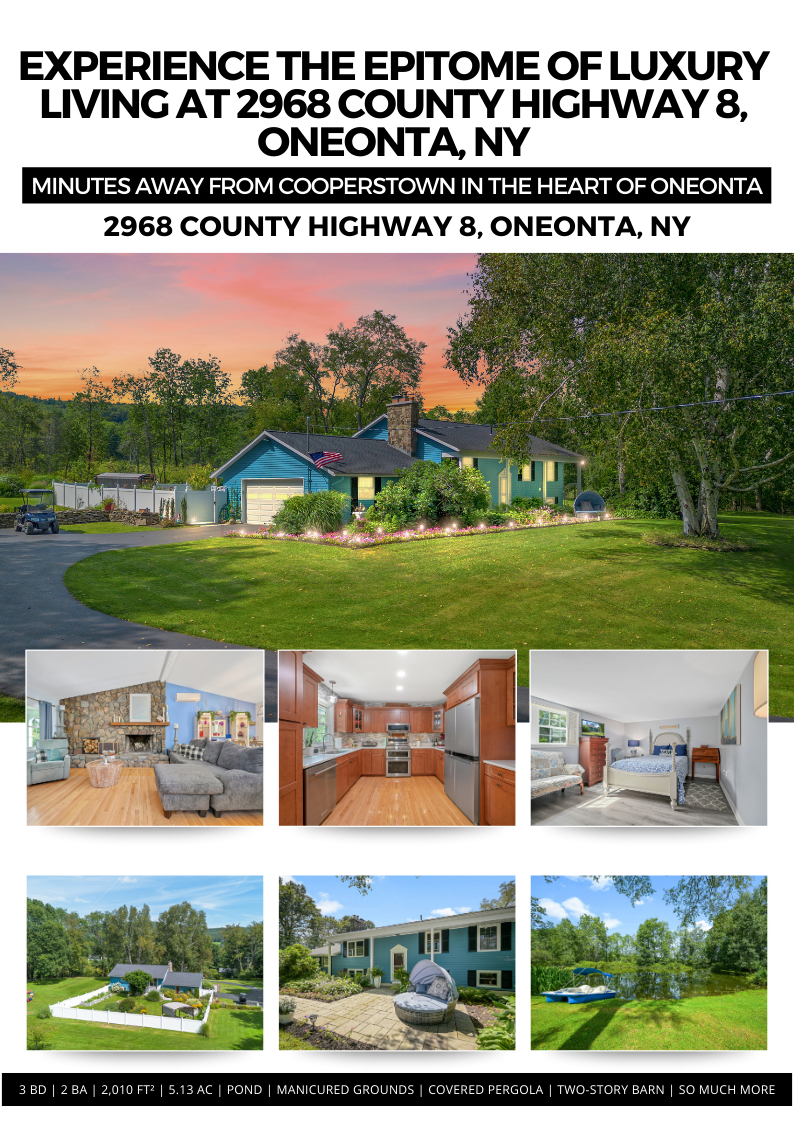 Click the image above to visit the property website.
Offered at: $549,000
---
The Epitome of Comfort, Luxury, and Location at 2968 County Highway 8
Nestled amidst 5.13 acres of idyllic park-like grounds, this 3-bedroom, 2-bath raised ranch is a real estate gem in Oneonta, NY. It's just five miles away from the vibrant heart of downtown Oneonta and a short 30-minute drive to the historic Cooperstown—making it a prime location for a lifestyle of comfort and luxury.
A Glimpse into Oneonta, NY
Known as the "City of the Hills," Oneonta is a charming city in Otsego County, NY. Surrounded by stunning natural landscapes, the city is a haven for outdoor enthusiasts and nature lovers. It offers a variety of cultural and recreational amenities, from shops and restaurants to parks and hiking trails.
Nearby Cooperstown—A Historic Retreat
Located just 30 minutes away from the property, Cooperstown is best known for being the home of the National Baseball Hall of Fame and Museum. The town offers a rich historical experience with its museums, architecture, and scenic Otsego Lake.
Step Inside Your New Home
Modern Kitchen and Open Floor Plan
One of the highlights of this magnificent home is the renovated kitchen featuring Cambria Quartz Countertops, stainless steel appliances, and beautiful custom cabinets. With oak floors gracing the living area, the open floor plan is perfect for entertaining or enjoying family time.
A Cozy Living Area
At the heart of the home is a handsome stone fireplace with built-in wood storage. This makes for the perfect cozy setting during those Oneonta winter months. The hearth offers additional seating for larger gatherings throughout the year.
Upstairs Comfort
The upstairs primary bedroom doesn't disappoint with its spaciousness and two separate closets. The hallway features a large linen closet with louvered doors and a full bath that also offers generous linen storage.
The Downstairs Retreat
Versatile Living Spaces
The downstairs area houses two large bedrooms—one currently being used as a remote office. The space features charming slate floors and another stone fireplace with a newly placed insert for added comfort and efficiency.
Convenient Amenities
The home comes with a stacked high-efficiency washer and dryer in a well-organized laundry area, and an attached garage—ideal for those chilly winter mornings.
Outdoor Living At Its Best
A Garden Paradise
Outside, discover a beautifully designed garden, an attached deck with a pergola covered in trumpet flower vines, and a convenient kitchen garden—all securely fenced in.
A Serene Pond and More
What could be more relaxing than a serene pond surrounded by stone walls, perennial flowers, and mature trees? And that's not all; the property also features a large covered pergola perfect for outdoor entertaining.
Storage and Beyond
And if you thought that was it, wait until you see the two-story barn. It's perfect for storing everything from tractors and lawnmowers to all your seasonal recreational gear.
Don't Miss Out!
This property is a rare find in Oneonta, and it's your opportunity to own a piece of Otsego County's best real estate. If you're ready to take the next step towards making this dream home yours, we're here to help you through every stage of the process.
Key Hashtags to Follow
#OneontaRealEstate #OtsegoCountyHomes #UpstateNYProperty #OneontaHomesForSale #OtsegoRealEstate #JustListed #HomeForSale #PropertyListing #RealEstateInvesting #DreamHome #OpenHouse #LuxuryLiving #CountryLiving #LakefrontProperty #FamilyHome #FirstTimeHomeBuyer #InvestmentProperty #RetirementHome #VacationHome #FarmAndLand #HomesFarmsAndLand #KevinLuceroRealEstate #YourTeamNameListings #TrustedRealty #YourBrandNewHome #HomeSweetHome #NewBeginnings #LifeGoals #HomeIsWhereTheHeartIs #MakeMemories
Ready to make the next move? Contact us today!