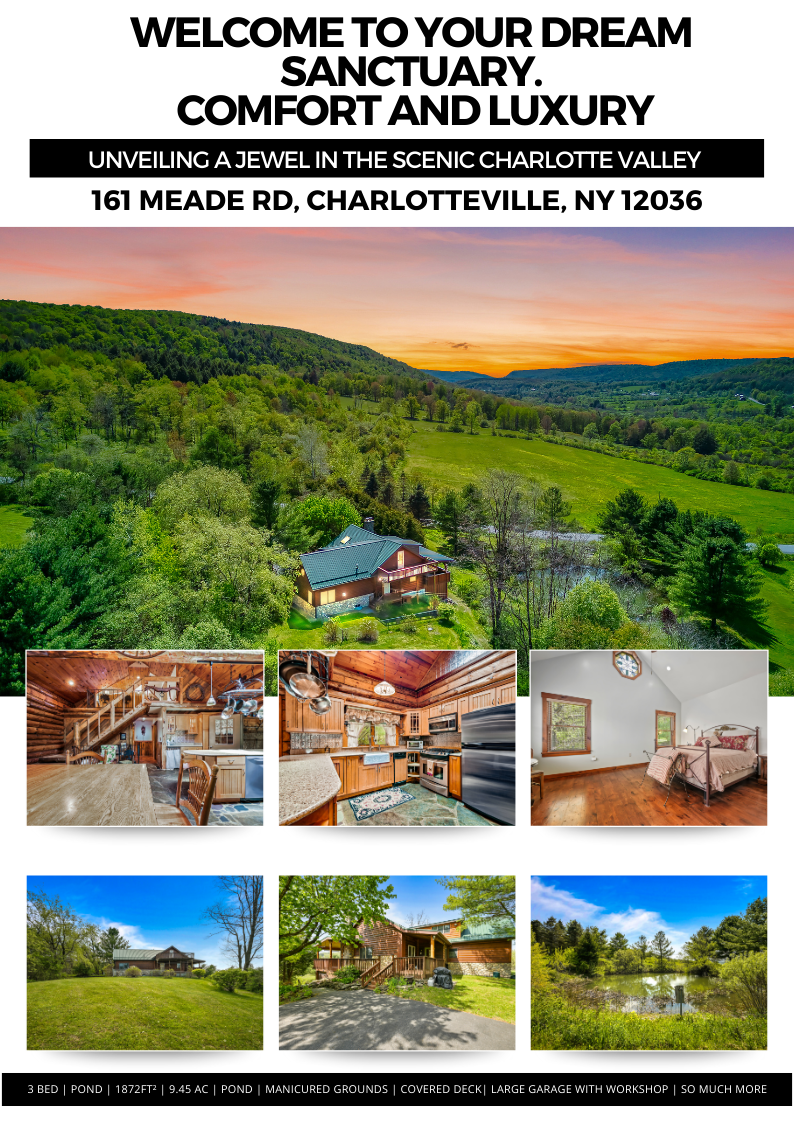 Welcome to Your Dream Sanctuary: 161 Meade Rd, Charlotteville, NY 12036
Unveiling a Jewel in the Scenic Charlotte Valley
If you've been searching for a home that effortlessly combines rustic charm with modern amenities, your quest ends here. Set on 9.45 acres in the Charlotte Valley, this exquisite log home is a haven of beauty, comfort, and serenity.
Why Charlotteville, NY?
Situated in New York State, Charlotteville is a scenic locale offering abundant natural beauty. Surrounded by lush landscapes, it provides a peaceful setting for anyone looking to escape the urban hustle. From picturesque views to outdoor recreational opportunities, Charlotteville is a dream destination for nature lovers.
Your First Impression: The Wrap-Around Porch
As you arrive at 161 Meade Rd, the first thing that captures your attention is the enormous wrap-around covered porch. It's the perfect spot to witness the sun dip below the horizon or watch rainstorms paint patterns across the valley.
Step Inside to Comfort and Luxury
A Renovated Kitchen
The renovated kitchen is a chef's dream, complete with stylish stone countertops, maple cabinets, and a dining experience that flows into a great room. The wood stove in the corner adds a touch of coziness to the atmosphere.
First-Floor Primary Suite
The newer addition to the house boasts a first-floor primary suite that is nothing short of a personal sanctuary. With a jetted tub, cedar-lined closets, and a gas fireplace, it offers a truly luxurious experience.
Your Lofty Living Room
The second-floor loft serves as your living room, offering a panoramic view of the property from its balcony. This versatile space can easily serve as an additional bedroom or a home office, complemented by a convenient half bath.
Versatile Living Across Three Levels
The finished basement, complete with a full bathroom, offers a myriad of possibilities. Whether you envision a family room, guest bedroom, or hobby space, this versatile area accommodates it all. Plus, a spacious walk-in closet provides plenty of storage.
More than Just a Home: An Outdoor Paradise
The property also features a fenced area and a pond stocked with Koi fish, creating a serene outdoor setting. And for fishing enthusiasts, direct access to Charlotte Creek offers an excellent trout fishing opportunity.
Garage and Workshop Space
A paved driveway leads to a three-door garage with an adjoining workshop area, providing abundant space for parking and weekend projects.
Don't Miss Out!
The chance to own such an exceptional property in the scenic Charlotte Valley comes once in a lifetime. With its blend of rustic charm and modern amenities, 161 Meade Rd is a property that promises a lifetime of comfort and luxury.
Hashtags to Follow
#CharlottevilleNYRealEstate #LogHomeLiving #ScenicValleyHomes #UpstateNYProperty #CharlottevilleHomesForSale #JustListed #HomeForSale #DreamHome #CountryLiving #FishingParadise #OutdoorLiving #TranquilRetreat #FamilyHome #InvestmentProperty #ExceptionalProperty
Are you ready to make this dream home your reality? Contact us today for more information!