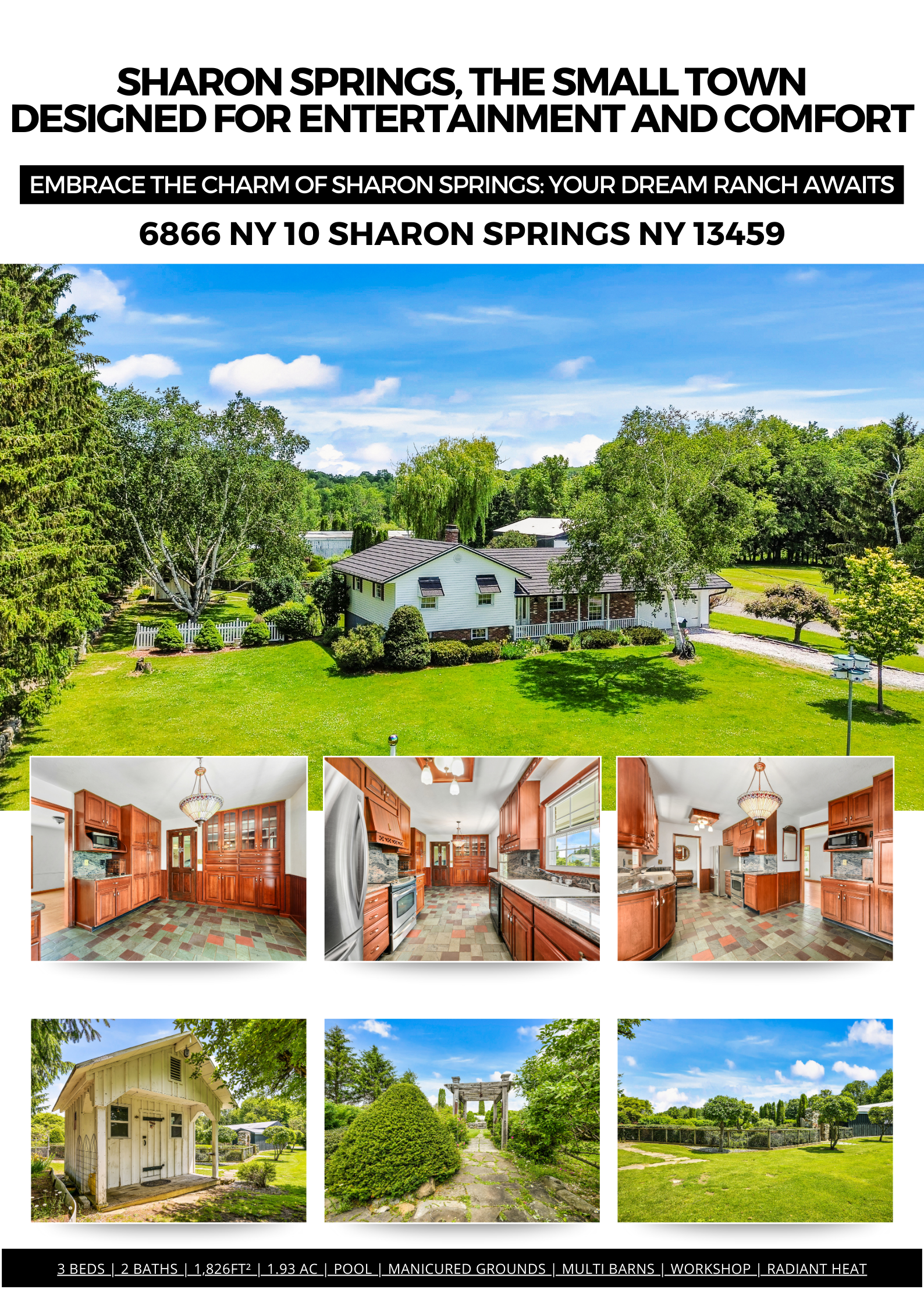 Click the image above to visit the property website.
Offered at: $529,000
---
Embrace the Charm of Sharon Springs: Your Dream Ranch Awaits
Discover the allure of Otsego County with a beautiful property located at 6866 NY 10, Sharon Springs. This split-level ranch is situated in the historic town of Sharon Springs, a hub of Otsego County's cultural richness.
A Home Steeped in Elegance
Behind the doors of this stunning home lies a custom kitchen with granite counters, built-ins, and radiant heated slate flooring—a culinary paradise. Wood floors seamlessly tie the rooms together, giving the home a continuous flow of warmth. Imagine waking up in the primary bedroom and stepping onto a private balcony that showcases meticulously manicured lawns—true serenity.
Designed for Entertainment and Comfort
The lower-level family room is both an entertainer's dream and a sanctuary for relaxation. Decked out with radiant heat, exquisite woodwork, a cozy pellet stove, and a dedicated full bath, this space is perfect for hosting or simply unwinding.
An Outdoor Dream
Step out and bask in the home's exterior offerings, from the inviting stone patio to the English garden replete with stone archways, rustic wooden doors, and vibrant flora. For those passionate about projects, the garage offers 16-foot doors, heated concrete floors, and a well-fitted workshop area. If that isn't enough, additional storage is available in the covered box trailer, pool house, storage shed, and coal house.
Sharon Springs: A Blend of History and Modern Comfort
Sharon Springs, a picturesque town nestled within Otsego County, is celebrated for its lush landscapes, rolling hills, and historic architecture. As a key town in Otsego County, it plays a vital role in providing residents with both a nostalgic charm and modern comforts.
Delve into Community Living
Being a part of Sharon Springs means immersing yourself in a close-knit community known for its warmth and welcoming spirit. Enjoy farm-to-table experiences, explore scenic trails, or simply savor the beauty of Otsego County's rolling hills. With charming cafes and restaurants around, local cuisine is always a treat.
Make 6866 NY 10 Your New Address
---
Key Hashtags to Follow
#SharonSpringsNY #OtsegoCountyLiving #NYRuralCharm #DreamHome #SharonSpringsHome #ScheduleAVisit #HistoricTown #FriendlyCommunity #CommunitySpirit #OtsegoAdventures #EnglishGarden #StonePatio #WorkshopLovers #FamilyRoom #EntertainmentSpace #CustomKitchen #WoodFloors #SereneRetreat
---
Experience the magic of Sharon Springs and the broader beauty of Otsego County. Dive into a life filled with community, nature, and the luxury of a home that caters to all your needs. Don't wait—schedule a tour today and take a step closer to your dream home in Sharon Springs!